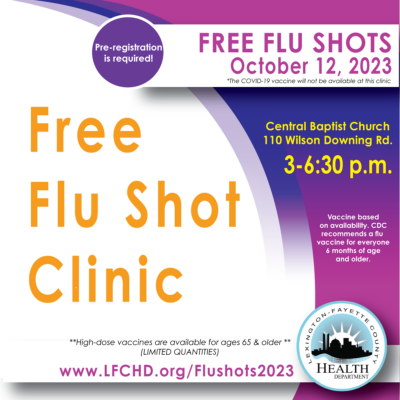 SEPT. 28, 2023: Registration is now live for the 2023 Free Flu Shot Clinic being held 3-6:30 p.m. Oct. 12 at Central Baptist Church, 110 Wilson Downing Road. Additional details, including how to register online, are available at www.lfchd.org/flushots2023/. The high-dose vaccine for ages 65 and older will be available in limited quantities.
Be sure to check out the Facebook Event listing: 2023 Free Flu Shot Clinic Facebook Event.
Lexington had 3, 472 lab-confirmed flu cases and 16 flu-related deaths in the 2022-23 flu season. About 80% of the cases were in people who were not vaccinated.
"The annual flu shot remains the best way to fight flu to protect yourself, your family and everyone around you each fall and winter," LFCHD spokesperson Kevin Hall said.
In addition to helping prevent you from getting sick with flu, a flu shot can reduce the severity of your illness if you do get flu and reduce your risk of a flu-associated hospitalization.
The seasonal flu shot is recommended for all people ages 6 months and older and is especially important for people at the highest risk of serious complications from the flu: infants and young children, pregnant women, anyone with underlying medical conditions and adults 50 and older.