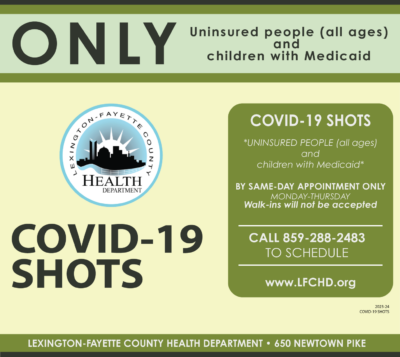 OCT. 2, 2023: The new COVID-19 shot is available in our Public Health Clinic by same-day appointment Monday-Thursday for ages 6 months and older. The health department will ONLY be providing the shot to those who qualify for the Kentucky Vaccine Program – those who are uninsured and children with Medicaid. The COVID-19 shot will be free for those in those groups.
Those who qualify for the Kentucky Vaccine Program can make same-day appointments by calling our Public Health Clinic, 650 Newtown Pike, at 859-288-2483.
We encourage others with insurance to get the COVID-19 shot at area pharmacies or medical providers.
The updated COVID-19 shot is recommend for everyone ages 6 months and older. Older adults and people with weakened immune systems are at the greatest risk for hospitalization and death from COVID-19. Healthy children and adults can still experience severe illness from COVID-19.
The updated shot should work well against currently circulating variants of COVID-19 and continue to be the best way to protect yourself against severe disease. The benefits of COVID-19 vaccination continue to outweigh any potential risks. Serious reactions after COVID-19 vaccination are rare. You can learn more here: www.cdc.gov/respiratory-viruses/whats-new/covid-vaccine-recommendations-9-12-2023.html.