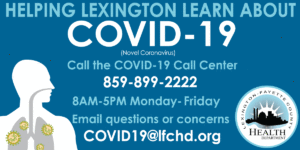 COVID-19 Graphs and Charts
Please click on an image below for a closer look at the demographics of Lexington's confirmed cases. This information is updated every morning except Sunday. Each update reflects the total through the previous day (Monday will be the total for Saturday and Sunday). Click here for more information on free testing in Lexington.
Updated 9:25 a.m. April 17, 2021 
Note: There will be no data entered for Sunday. Any cases from Sunday will be processed with Monday's count and reported Tuesday. This will not affect the 7-day rolling average.
Feb. 2, 2021: We are moving to a 6-day work week for the COVID-19 response. As a result, Saturday's case counts will be reported on Monday starting Feb. 8; case counts for Sunday and Monday will be posted Tuesday morning.
Nov. 9: Starting Nov. 9, we are transitioning to the state's contact tracing system. Over the next few weeks, our staff will be entering cases into the state's tracking system while also continuing to use our existing system. We are working with the Kentucky Department for Public Health to make the transition as smooth as possible. 
Part of the transition includes loading data from all previous cases into the new system. We do not anticipate the transition will cause any delays in case investigations or in updating our daily COVID-19 case counts on our website. However, specific demographic information might not be available for our daily charts/graphs in the interim. The charts/graphs will return as soon as the information is available to be pulled from the new system.
Oct. 5: As of today, Lexington university and college students who test positive for COVID-19 on Oct. 1, 2020, or later and who were living in Lexington during their exposure to COVID-19 will be counted as a case recorded in Fayette County. In other words, most students who choose to isolate outside the county will now be considered Fayette County cases and will be included in our daily reporting; this includes in-state and out-of-state students. For those students who isolate elsewhere, the Lexington-Fayette County Health Department or the Kentucky Department for Public Health will be in contact with the appropriate local health departments where the student is isolating. The outside jurisdiction will still be responsible for isolating and monitoring the new cases. Following the request of the Kentucky Department for Public Health, the change was made to more accurately reflect the spread of disease locally and to be more consistent with other jurisdictions' case-counting methodology.