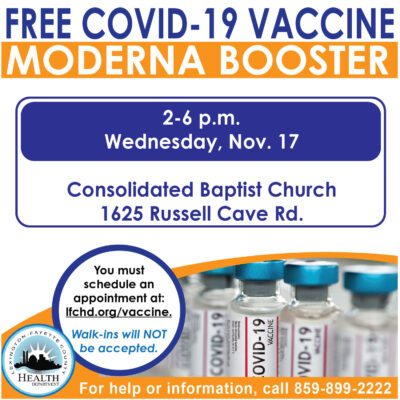 The Lexington-Fayette County Health Department will provide the FREE Moderna COVID-19 booster at a special vaccination clinic 2-6 p.m. Wednesday, Nov. 17, at Consolidated Baptist Church, 1625 Russell Cave Road. Walk-ins will not be accepted.
Please register in advance at (clinic is closed).
This is ONLY for the Moderna booster; first/second doses of Moderna will not be available, and we will not be providing other vaccines at this clinic. You must have received your second dose at least 6 months ago.
The following are eligible for the Moderna booster:
people ages 65 and older;
people ages 18-64 with underlying medical conditions putting them at high risk of severe COVID-19 (this includes diabetes and heart, kidney or lung disease; more information on who is considered at high risk can be found at www.cdc.gov/coronavirus/2019-ncov/need-extra-precautions/people-with-medical-conditions.html);
people ages 18 and older who live in long-term care or high-risk settings; and
people ages 18-64 who are likely to get exposed at work (examples include health care, education, restaurants, groceries and manufacturing).
Registration information
Each recipient MUST register in advance.
Only one person can register per account — everyone registering must enter a phone number or email.
Registration will close when all appointment slots are full. Every person who attends the clinic MUST be registered in advance.
Thank you for your interest in getting vaccinated. If you need assistance, please call our call center at 859-899-2222.