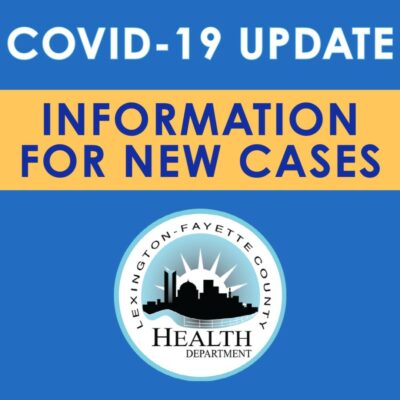 You've tested positive for COVID-19 – now what?
We have developed this patient guide to help you with your next steps: COVID-19 Patient Guide (updated 9/8/21).
We are attempting to call all positive cases, but we cannot call someone until we have important information (names, phone numbers, test dates, etc.) from the labs. Some cases cannot be contacted because of missing lab information and/or people not answering our calls. If you have tested positive and have not been contacted by us, please send your lab results to covidreport@lfchd.org.
Close Contacts
We do not call contacts of cases. For close contacts, this guide can help you: Close Contact Quarantine Information. If you need official documentation for your place of employment, or for private schools, please email covidorders@lfchd.org.
If you are a Fayette County Public Schools contact who has been quarantined by the schools, you will be contacted by FCPS and not the Lexington-Fayette County Health Department.