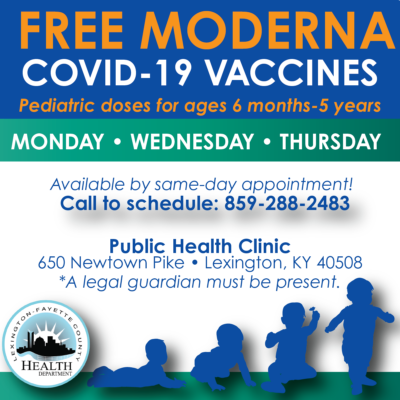 (En español) Starting Wednesday, June 29, the Moderna vaccine for ages 6 months-5 years will be available for free by same-day appointment in our Public Health Clinic at 650 Newtown Pike. Call 859-288-2483 to schedule your same-day appointment every Monday, Wednesday and Thursday! A legal guardian MUST be present at the time of the shot. To complete the series, a second dose will be given after four weeks; you must call to schedule at that time.
Vaccination against COVID-19 is the best way to reduce the negative impact of this pandemic in all age groups. According to the American Academy of Pediatrics (AAP), more than 13.5 million children in the U.S. have been infected with COVID-19 since the onset of the pandemic, and although most children experience mild symptoms, more than 42,000 have been hospitalized in the U.S. and at least 1,240 children aged 18 and younger have died.
The AAP and the Centers for Disease Control and Prevention recommend the COVID-19 vaccine for children in this age group. Parents are strongly encouraged to have their infants and young children vaccinated with either vaccine. The Pfizer vaccine is widely available throughout Lexington and can be found at www.vaccines.gov/search.
The AAP shares this about side effects: "The same side effects that we see with routine childhood vaccines have been seen in the studies of these vaccines. They are things like soreness and redness where the shot goes in. Some babies and children don't feel well later in the day of the shot or on the next day. A small number of vaccinated children get fever—and very few get high fever. Usually, it lasts only a day or two. Thousands of children were in the studies, and there were no children with serious allergic reactions, heart inflammation or other serious problems related to the vaccines that may worry (caregivers)."
Learn more about the vaccine in this FAQ from the American Academy of Pediatrics: https://www.healthychildren.org/English/health-issues/conditions/COVID-19/Pages/covid-vaccines-for-kids-6-months-and-older-faqs-for-families.aspx.
COVID-19 vaccines for ages 5 and older are also free by same-day appointment Monday, Wednesday and Thursday by calling 859-288-2483.