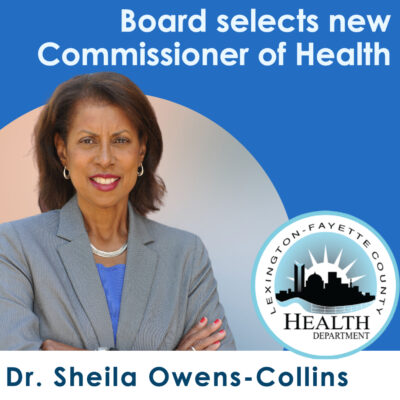 Lexington will soon have a new Commissioner of Health: Dr. Sheila Owens-Collins formally accepted the job on Jan. 10 after the Lexington-Fayette County Board of Health approved her appointment at its regular meeting Jan. 9. Dr. Owens-Collins, who previously served as medical director of Health Equity-Innovations, Strategies and Outcomes Research at Johns Hopkins HealthCare, will begin the post on Tuesday, Jan. 17.
"I am excited to be part of a health department that is known for being leaders in public health," Dr. Owens-Collins said. "It is an honor to have the Board of Health's support in continuing the mission of helping Lexington be well."
The Commissioner of Health position has been vacant since Dr. Joel McCullough's resignation in July 2022, with Jessica Cobb serving as interim chief administrative officer.
"Dr. Owens-Collins will bring strong leadership as the next Commissioner of Health, which will benefit not only Lexington, but all of Kentucky," said Dr. Rodney Jackson, chair of the Lexington-Fayette County Board of Health. "We are excited about the next steps for public health in central Kentucky."
Dr. Owens-Collins earned a medical degree from the Baylor College of Medicine, a Master of Public Health degree from the University of California, Los Angeles, a Master's in Business Administration from Rice University and an Executive Business MBA from Rice.
For additional information on the Lexington-Fayette County Health Department, follow us at Facebook.com/LFCHD, www.twitter.com/LFCHD or www.instagram.com/lexpublichealth.
.