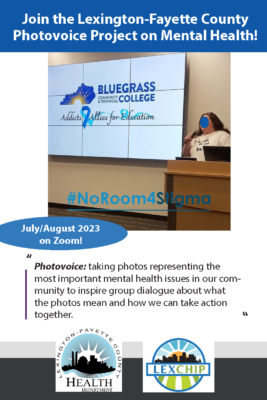 We are extending the deadline for you to join this project!
An exciting new addition, called Photovoice, is being incorporated into our community health improvement planning process focused on mental health. Photovoice invites participants to share their perspectives on mental health through photography, reflection and action.
We are seeking participants who live and/or work in Lexington-Fayette County to participate in 4 weekly Zoom sessions, 1 ½-2 hours per week, led by a trained facilitator in July/August 2023.
After an orientation session, participants will be asked to take photos (with a smart phone or digital camera) related to mental health in Lexington-Fayette County. The photos are then shared and discussed during the weekly sessions.
Sessions will be scheduled to meet the needs of participants as much as possible (day and evening sessions), and participants will receive a raffle ticket for each session they attend. The enrollment deadline is Friday, July 7.
To sign up: https://forms.gle/BF5qL6gDwJa142937.