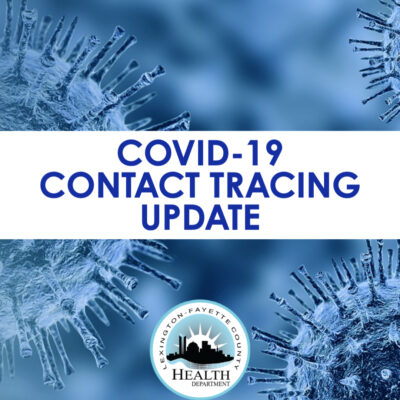 (En español) As of March 21, 2022, Lexington-Fayette County Health Department (LFCHD) will no longer be contacting each individual person who receives a positive test result for the COVID-19 infection.
This change in our practice was made after careful analysis of data and public health guidance. Public health experts agree that intensive universal case investigation and contact tracing are no longer optimal at this phase of the pandemic. LFCHD will focus on targeting investigations in high-risk settings, congregate settings and those serving vulnerable populations.
As part of our adjustments, we are encouraging businesses to seek alternatives to requiring an isolation or quarantine order from LFCHD as part of an employee's sick leave documentation regarding COVID-19. Adjustments may include accepting a copy of a positive test result for an employee and restricting those exhibiting COVID-19 symptoms from working on site. LFCHD continues to encourage those who are exhibiting symptoms of COVID-19 to isolate and wear a mask.
This change in our practice will mean the following for you:
LFCHD will no longer issue isolation and quarantine orders or releases for return to work and or school. If you need proof of your positive test result as a requirement for your employer or school setting, you may obtain a copy of your test result from the provider that ordered the test or from the laboratory that performed the test. You may be asked to complete a medical record request in order to receive a copy of your results.
If you have tested positive for COVID-19 or have been in contact with someone who has tested positive for COVID-19, please follow the guidance provided by the Kentucky Department for Public Health (KDPH) and the Centers for Disease Control and Prevention (CDC). Please notify your close contacts so they may begin to quarantine if indicated. Please refer to guidance provided by the CDC as to what is classified as a close contact.
If you have provided an email address to the provider that ordered the COVID-19 test or to the laboratory itself, and that email address is provided to the health department, you will receive an email survey.
If you would like to complete a survey, please email covidinterview@lfchd.org. Please provide a copy of your positive COVID-19 test result. If you obtained a positive COVID-19 test result from a home-performed test, LFCHD cannot accept that test result.
For questions or specific concerns about COVID-19, you may still call our COVID-19 call center at 859-899-2222 or visit our website for additional resources and guidance at www.lfchd.org.
LFCHD continues to offer same-day appointments for free COVID-19 vaccinations and boosters (Moderna or Pfizer) in our Public Health Clinic on Monday, Wednesday and Thursday. Please call our Public Health Clinic at 859-288-2483 to schedule a same-day appointment.
If you are an employer experiencing a COVID-19 outbreak at your business and need assistance, please email us at covidexposure@lfchd.org.
Other languages