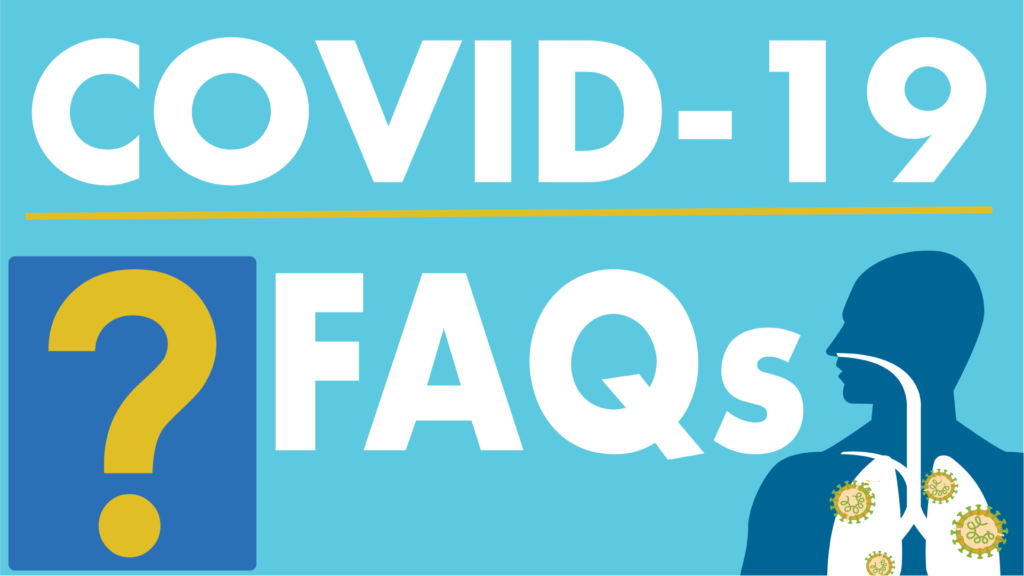 We know you have plenty of questions about COVID-19, so we've collected some of the most common ones we receive to help you know more about the current outbreak. You can read more about COVID-19 here: CDC COVID-19 FAQs.
What is the coronavirus?
Coronaviruses are a large family of viruses that are common in many different species of animals, including camels, cattle, cats and bats. Some animal coronaviruses can infect people and then spread between people. Currently, here in Kentucky, there are four coronaviruses that commonly circulate among humans and causes mild illness, like the common cold.
Are there any COVID-19 cases in Kentucky?
COVID-19 has been confirmed in Kentucky. Some individuals are being monitored for any signs or symptoms because of their recent travel and possible exposure to COVID-19 cases but are not considered people under investigation.
Are there other kinds of coronavirus?
There are four coronaviruses that commonly circulate each fall and winter in Fayette County. These are very different than the new COVID-19 virus that started in China in 2019. A diagnosis with coronavirus 229E, NL63, OC43 or HKU1 is not the same as a COVID-19 diagnosis.
How is COVID-19 spread?
The virus is thought to spread mainly from person-to-person.
Between people who are in close contact with one another (within about 6 feet).
Via respiratory droplets produced when an infected person coughs or sneezes.
These droplets can land in the mouths or noses of people who are nearby or possibly be inhaled into the lungs.
In the United States, spread from person-to-person has occurred only among a few close contacts. COVID-19 is an emerging disease and there is much more to learn about its transmissibility and severity.
Am I at risk for COVID-19?
Individual risk for COVID-19 is dependent on exposure. For the general American public, who are unlikely to be exposed to this virus at this time, the immediate health risk from COVID-19 is considered low. Under current circumstances, certain people will have an increased risk of infection (i.e. health are workers caring for patients with COVID-19). For more information about risk assessment of people with potential exposures to COVID-19, the CDC has developed Assessing & Managing Risk Based on Different Exposures to COVID-19.
Is there a vaccine for COVID-19?
There is currently no vaccine to prevent COVID-19. It is estimated that one may be available sometime in 2021.
How can I help to protect myself?
The best way to prevent illness is to avoid being exposed to this virus. However, there are everyday preventative actions you can do to help to prevent the spread of this virus.
Wash your hands often with soap and water, especially after going to the bathroom; before eating; and after blowing your nose, coughing, or sneezing.
Avoid close contact with people who are sick.
Avoid touching your eyes, nose and mouth.
Stay home when you are sick.
Cover your cough or sneeze with a tissue, then throw the tissue in the trash.
Clean and disinfect frequently touched objects and surfaces using a regular household cleaning spray or wipe.
Do you have any masks available?
The Lexington-Fayette County Health Department does not have masks to distribute to the public.
How can I disinfect my home or workplace?
Clean frequently touched surfaces and objects daily (such as tables, countertops, light switches, doorknobs, cabinet handles, etc.) using a regular household detergent and water. If surfaces are dirty, they should be cleaned using a detergent and water prior to disinfection.
Should I cancel my trip?
CDC provides recommendations on postponing or canceling travel. These are called travel notices and are based on assessment of the potential health risks involved with traveling to a certain area. A list of destinations with travel notices is available at the CDC COVID-19 website.
What is the risk of getting COVID-19 on an airplane?
Because of how air circulates and is filtered on airplanes, most viruses and other germs do not spread easily on airplanes. Although the risk of infection on an airplane is low, travelers should try to avoid contact with sick passengers and wash their hands often with soap and water for at least 20 seconds or use hand sanitizer that contain 60%-95% alcohol.
Is it safe to go on a cruise?
Cruises put large numbers of people, often from countries around the world, in frequent and close contact with each other. This can promote the spread of respiratory viruses, such as the virus that causes COVID-19. You may get sick from close contact with an infected person or by touching contaminated surfaces.
To reduce spread of respiratory viruses, including COVID-19, CDC recommends that crew members and passengers:
Avoid close contact with people who are sick.
Avoid touching your eyes, nose, and mouth with unwashed hands.
Wash your hands often with soap and water for at least 20 seconds, especially after going to the bathroom; before eating; and after blowing your nose, coughing or sneezing.
If soap and water are not readily available, use an alcohol-based hand sanitizer that contains 60%-95% alcohol.
Stay in your cabin when you are sick and let the onboard medical center know immediately if you develop a fever (100.4°F/38°C or higher), begin to feel feverish, or have other symptoms (such as cough, runny nose, shortness of breath or sore throat).