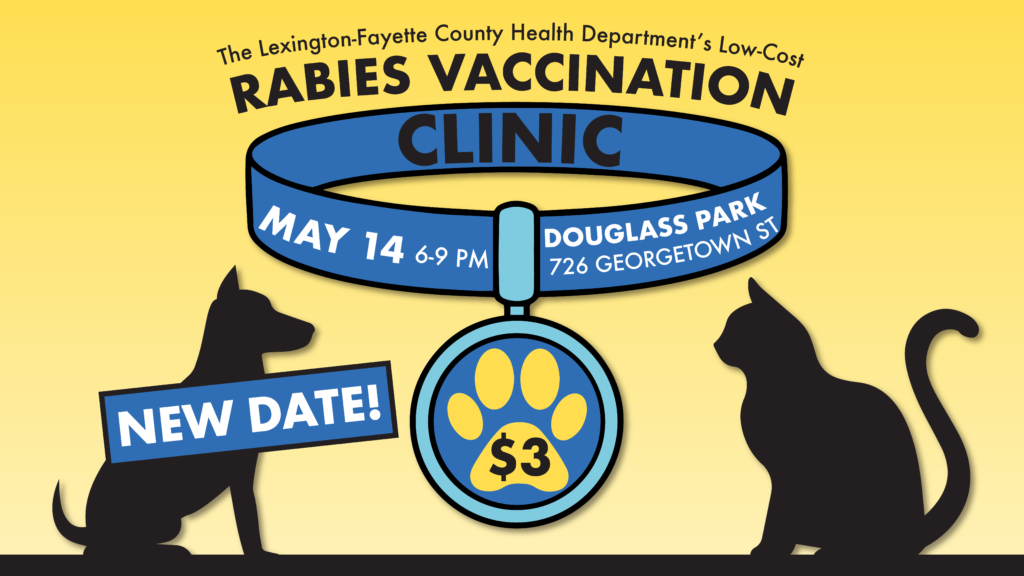 UPDATED MAY 8, 2019: Because of the weather forecast, our low-cost rabies vaccination clinic has been RESCHEDULED to 6-9 p.m. Tuesday, May 14, at Douglass Park, 726 Georgetown Street. Vaccinations will cost just $3. All cats must be in a carrier, and all dogs must be on leashes. In the event of inclement weather, the clinic date is subject to change. The health department will provide updated information at www.lexingtonhealthdepartment.org and on its Twitter account at www.twitter.com/LFCHD.

Rabies, a viral disease of humans, pets and wild animals, is transmitted from animals to humans by the saliva of a rabid animal, usually from a bite. Rabies vaccinations typically cost about $20, making this clinic a great value to pet owners. "A rabies shot gives protection to the pet as well as its owner and the other people of Lexington," said Luke Mathis, LFCHD Environmental Health team leader and one of the event's organizers. "We're pleased to provide this useful public health service as we help Lexington be well."
State law requires that all dogs, cats and ferrets maintain a current rabies vaccination. The health department gave 542 rabies shots during the May 2018 clinic. The LFCHD Rabies Control Program investigated 316animal bite reports last year, with LFCHD staff making sure each animal was up to date on all rabies vaccination shots.
The clinic also provides pet owners with the opportunity to purchase an animal license for $8 if the animal has been spayed or neutered. A license costs $40 if the animal has not been fixed or the owner has no proof of alteration. Lexington-Fayette Animal Care and Control, the Lexington Humane Society, the Lexington-Fayette County Division of Parks and Recreation Department, Gainesway Small Animal Clinic and MedVet Medical and Cancer Center for Pets are also sponsoring the clinic.
For more information on the annual Rabies Clinic, call the Lexington-Fayette County Health Department's Division of Environmental Health at (859) 231-9791. Be sure to like the Lexington-Fayette County Health Department on Facebook at www.facebook.com/LFCHD, and follow us on Twitter at www.twitter.com/LFCHD and Instagram at @lexpublichealth.