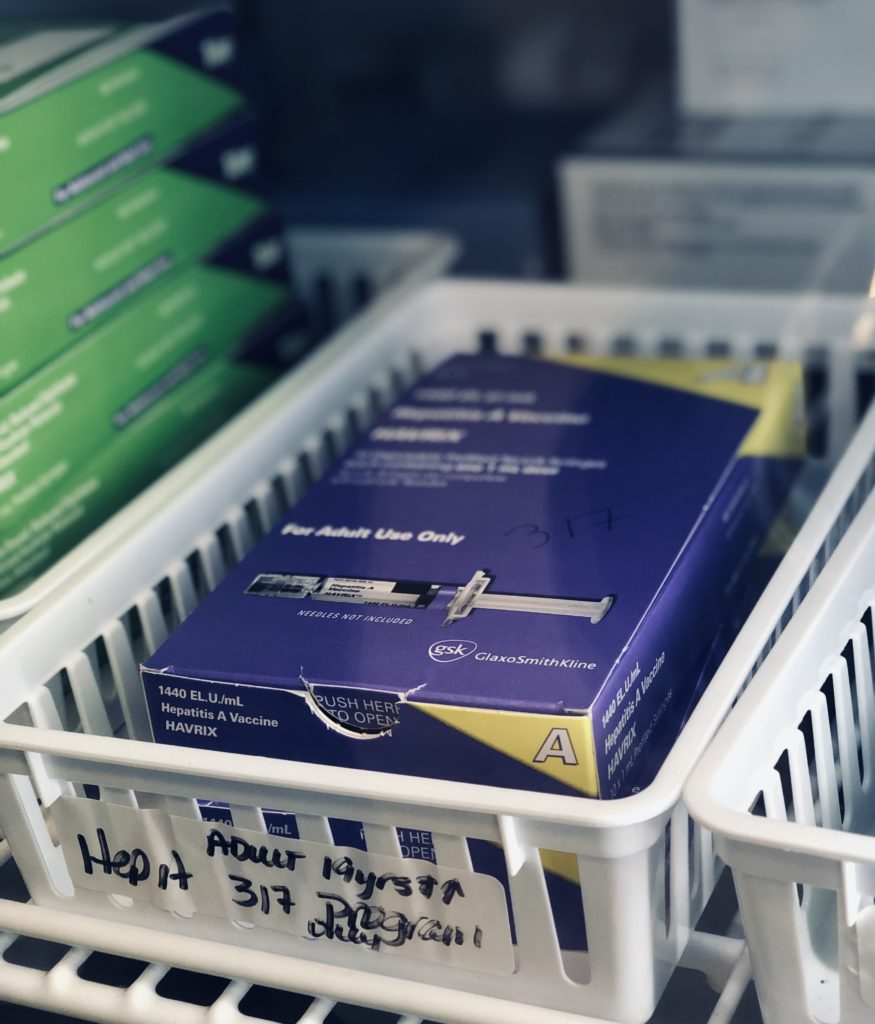 (Updated Aug. 2, 2019) Hepatitis A is a liver disease that can easily be passed from person to person and can be spread through close contact with someone infected with it. Washing your hands with soap and warm water after using the bathroom, changing a diaper or before making food and drinks can help stop the spread of hepatitis A.
More than 4,790 cases have been reported across Kentucky since the fall of 2017, compared to around 20 cases that are typically recognized each year. There have been 59 deaths associated with hepatitis A in this outbreak. Though the outbreak was initially centered in the Louisville area, outbreak-related cases have now been reported in 110 counties across the state, including Fayette. Learn more about which counties have hepatitis A in this Kentucky hepatitis A report.
The best prevention is with a hepatitis A vaccination. The hepatitis A vaccine, given in two doses six months apart, is available from some medical providers and many pharmacies in Lexington and is covered by most insurance plans. The vaccine is also available at the health department's Public Health Clinic by appointment. Call 859-288-2483 to check availability and to schedule an appointment. You can learn more in our Hep A Q&A!
Starting in the 2018-19 school year, Kentucky students are required to have the vaccination. Please check with your medical provider to see if your child has been vaccinated.
Good handwashing can also help control the spread of hepatitis A. Consistent and careful handwashing, including under the fingernails, for at least 20 seconds with soap and water can help stop the spread of the virus.
You can learn more about hepatitis A in this interview from Healthy Times, our radio show on Lexington Community Radio: hepatitis A interview.
Please check out our new page with frequently asked questions about hepatitis A: hepatitis A FAQs.
Information for Providers
The Lexington-Fayette County Health Department is urging providers to vaccinate all adult patients against hepatitis A, not just those in a high-risk category.
Consider providing Twinrix® to those who have previously not been vaccinated for hepatitis B.
Per Immunization Regulation 902 KAR 2:060, two doses of hepatitis A (HepA) vaccine will be required for all children aged 19 months through 18 years who attend daycare, primary and secondary school beginning on or after July 1, 2018 for the 2018‐2019 school year. Children aged 12 months through 18 months will require one dose of HepA vaccine. Providers should now catch‐up children aged two years and older to assure hepatitis A immunity.
Community Flyers
Click on a flyer below for a larger format to share:
Wash Your Hands
What You Should Know
High-Risk Groups