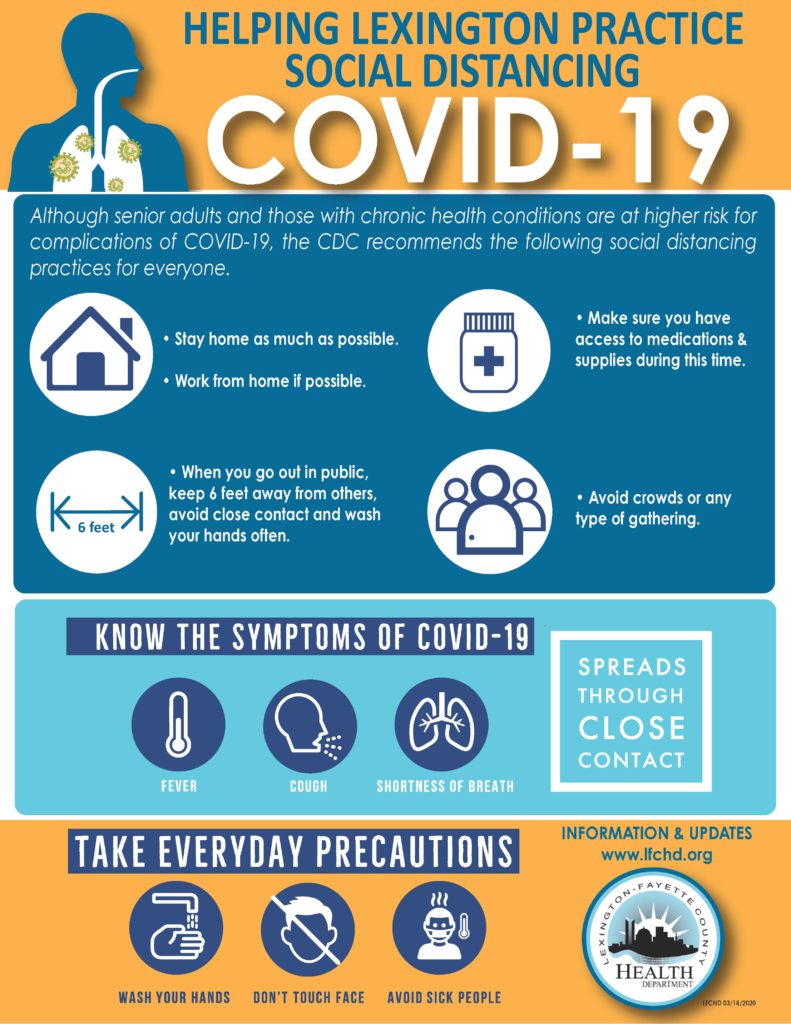 MARCH 18, 2020: The Lexington-Fayette County Health Department confirms today there is one additional COVID-19 (coronavirus) case in Lexington.
Health officials are working with the Kentucky Department for Public Health (KDPH) to identify and speak with all those who may have come in close contact with this person. These individuals will be monitored for fever and respiratory symptoms. There are now six confirmed cases in Fayette County.
Additional details about the people involved cannot be provided because of medical privacy laws.
The health department is recommending social distancing for everyone because COVID-19 is thought to be primarily spread through close contact with those who are infected. The following social distancing tips should be followed:
Stay at home as much as possible.
Make sure you have access to medications and supplies in case you are advised to stay home.
When you go out in public, keep away from others who are sick, limit close contact and wash your hands often.
Avoid crowds.
The health department offered these tips to continue to help prevent the spread of COVID-19:
Wash your hands often with soap and water, especially after going to the bathroom; before eating; and after blowing your nose, coughing, or sneezing.
Avoid close contact with people who are sick.
Avoid touching your eyes, nose and mouth.
Stay home when you are sick.
Cover your cough or sneeze with a tissue, then throw the tissue in the trash.
Clean and disinfect frequently touched objects and surfaces using a regular household cleaning spray or wipe.
Practice social-distancing when at all possible.