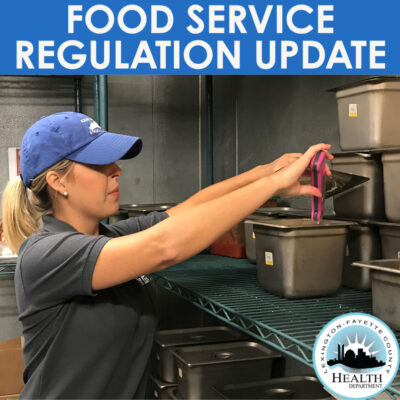 The Lexington-Fayette County Board of Health recently approved an update to city's food service regulations. A summary of the changes, including definition updates and new late fees for permits, can be found here: Food Service Regulation 19 Summary.
The updates also change the health department's internal "probation program" for restaurants. The new program will be an Enhanced Regulatory Enforcement. Establishments that score below an 85 on their regular inspection, fail an assigned follow-up inspection or require closure due to an imminent public health issue (e.g. raw sewage, no electricity, no running water, rodent or insect infestation with food adulteration) will be placed on ERE. See section 45, page 40 for details: Food Service Regulation 19.
The new regulation was adopted Sept. 13, 2021, and is effective immediately. Anyone who cannot access the information posted can contact Environmental Health at 859-231-9791.
Language Posted in Newspaper
The Lexington-Fayette Urban County Board of Health voted unanimously to pass a revised Food Service Regulation on September 13, 2021. All food service establishments are encouraged to review the regulation at their earliest convenience. The summary of changes and the full document may be viewed on the LFCHD webpage (https://www.lfchd.org), specifically at https://www.lfchd.org/updates-to-food-service-regulation-19/. The public has a right to inspect Regulation 19. Requests to inspect Regulation 19 may be submitted by mail or in person at 650 Newtown Pike, Lexington, KY 40508.