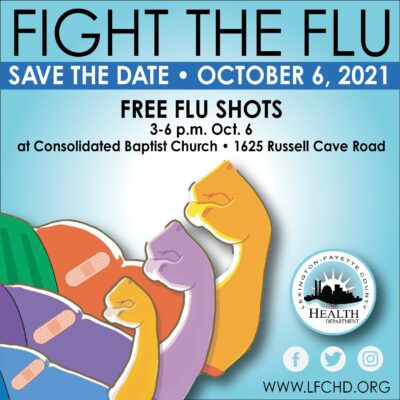 Save the date, Lexington! We'll be giving free flu shots 3-6 p.m. Oct. 6 at Consolidated Baptist Church, 1625 Russell Cave Road. Additional details will be available soon and will post at lfchd.org and on our Facebook page.
"An annual flu shot is the best way to fight the flu each fall and winter," LFCHD spokesperson Kevin Hall said. "The flu shot remains important this year as we remain in the COVID-19 pandemic. It can help reduce the overall impact on respiratory illnesses on the population, which will lessen the burden on our healthcare system during the COVID-19 pandemic."
In addition to helping prevent you from getting sick with flu, a flu shot can reduce the severity of your illness if you do get flu and reduce your risk of a flu-associated hospitalization.
The seasonal flu shot is recommended for all people ages 6 months and older and is especially important for people at the highest risk of serious complications from the flu: infants and young children, pregnant women, anyone with underlying medical conditions and adults 50 and older.
Because of the COVID-19 pandemic, the CDC is also urging the flu shot for essential workers, including healthcare personnel and long-term care facility staff; and people at increased risk for severe illness from COVID-19, including adults 65 and older, residents of long-term care facilities and anyone with underlying health conditions.