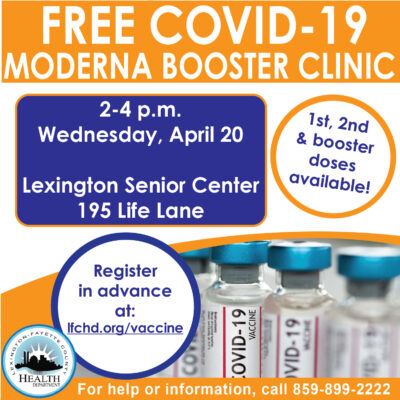 (En español) The Lexington-Fayette County Health Department will provide the FREE Moderna COVID-19 booster 2-4 p.m. Wednesday, April 20, at the Lexington Senior Center, 195 Life Lane.
The second booster is only for ages 50 and older and some immunocompromised people (https://www.cdc.gov/coronavirus/2019-ncov/vaccines/recommendations/immuno.html). You must have received your first booster at least four months ago. Please bring your vaccine card with you to the clinic.
First/second doses and first boosters are also available for ages 18 and older. To receive the first booster, you must have received your second dose at least five months ago.
Registration information
Each recipient MUST register in advance.
Only one person can register per account — everyone registering must enter a phone number or email.
Registration will close when all appointment slots are full. Every person who attends the clinic MUST be registered in advance.
Thank you for your interest in getting vaccinated. If you need assistance, please call our call center at 859-899-2222.