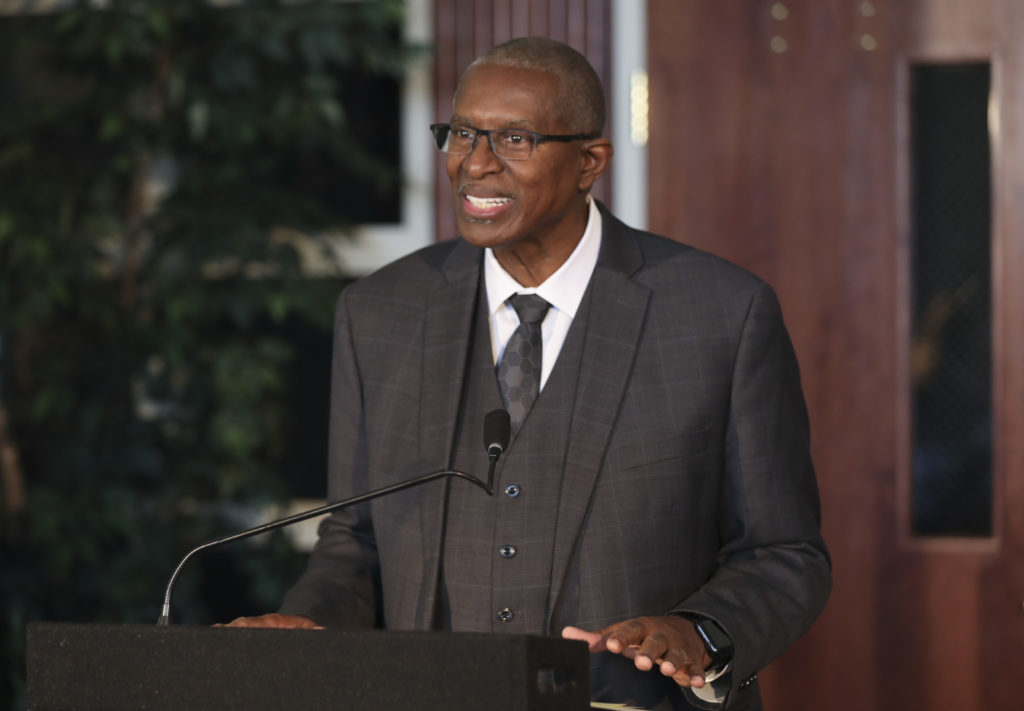 The Lexington-Fayette County Health Department's Board of Health has selected Pastor Richard Gaines and Consolidated Baptist Church as the 2021 Dr. Rice C. Leach Public Health Hero award winners. The award is given annually to individuals who have demonstrated their dedication to improving the health of Lexington residents. The winner is announced each April as part of National Public Health Week (April 5-11, 2021).
Gaines and Consolidated were recognized for their long-standing help to Lexington through allowing the church gymnasium as a site for the health department's annual free flu shot clinic in 2016 and 2017, along with a drive-thru clinic in the parking lot in October 2020. That experience led to the health department launching COVID-19 vaccination clinics at Consolidated, located at 1625 Russell Cave Road, on Dec. 23, 2020, with weekly clinics ever since. This has been without a charge to the department or the public.
Gaines, the Consolidated staff and volunteers work with the health department each week to make sure every need is met for those getting vaccinated. This includes allowing the health department to store basic equipment, which removes the need for set-up/take-down each week. This saves at least four hours every time a clinic is held.
Additionally, Gaines and Consolidated work with the City of Lexington, Mayor Linda Gorton's office, faith-based leaders and other community organizations to help spread the word about the COVID-19 vaccine.
"Consolidated Baptist Church has been a significant partner in 'helping Lexington be well,'" a nomination stated, referencing the health department's mission.
Gaines and Consolidated will be recognized at the April 12 Board of Health meeting, held via Zoom. They will also be honored April 22 during a Lexington-Fayette Urban County Council meeting.
Previously known as the Public Health Hero Award, the Board of Health renamed the award in 2016 in memory of the late Dr. Rice C. Leach, Lexington's former Commissioner of Health who spent more than 50 years as a public health physician. Leach died April 1, 2016.
Past winners include Jon Parker (2020), Mark Johnson (2019), Dr. Svetla Slavova (2018), Reginald Thomas (2017), Dr. Rice C. Leach (2016), Dr. Susan Pollack and Marian F. Guinn (2015), the Rev. Willis Polk and Baby Health Service (2014), Anita Courtney and Teens Against Tobacco Use (2013); Vickie Blevins and Jay McChord (2012); Jill Chenault-Wilson and Dr. Malkanthie McCormick (2011); Dr. Jay Perman (2010); the Lexington Lions Club (2009); Dr. David Stevens and the late Dr. Doane Fischer (2008); Dr. Ellen Hahn, Mary Alice Pratt and Therese Moseley (2007); Dr. Andrew Moore and Rosa Martin (2006); Jan Brucato and Dragana Zaimovic (2005); and Dr. John Michael Moore, Ellen Parks and Lexington-Fayette Urban County Government (2004). Dr. Robert Lam received a Lifetime Achievement Award in 2007.