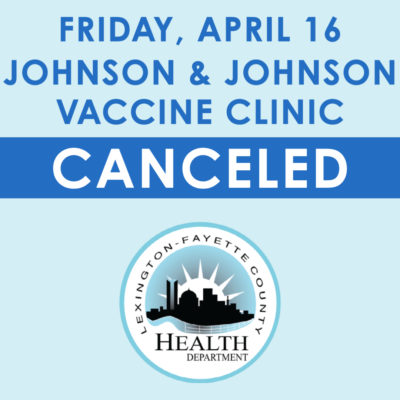 The COVID-19 vaccination clinic scheduled for Friday, April 16, has been CANCELED following the CDC and FDA review of the Johnson & Johnson (Janssen) vaccine. Details about any future clinics will be shared when available. This does not affect anyone who is due to receive their second dose of the Moderna vaccine from us.
More information about other vaccination opportunities are available at https://www.lexingtonky.gov/vaccines.
En español
La clínica de vacunación del COVID-19 programada para el viernes 16 de abril, ha sido cancelada tras la revisión de la vacuna de Johnson & Johnson (Janssen) por la CDC y FDA. Los detalles sobre las futuras clínicas se compartirán cuando estén disponibles. Esto no afecta a nadie que deba recibir su segunda dosis de la vacuna Moderna de parte nuestra.