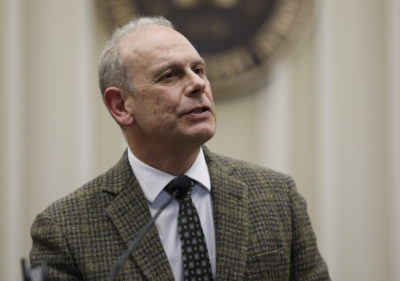 Commissioner of Health Dr. Kraig Humbaugh received the Elbert "Al" Austin Jr. Career Achievement Award from the Kentucky Public Health Association! Dr. Humbaugh has been Lexington's commissioner of health since 2016.
The following is the nomination submitted for Dr. Humbaugh.
Full disclosure: if Dr. Kraig Humbaugh wins this award, he will place all the credit on his staff.
That's true in his current role as Commissioner of Health of the Lexington-Fayette County Health Department, where he has served since 2016 (and is leaving this summer), and in numerous roles throughout the Kentucky Department for Public Health. Anyone who has worked with Dr. Humbaugh knows he is the first to take the blame for anything bad and to pass the credit for anything good.
The Elbert "Al" Austin Jr. Career Achievement Award is to honor a person "who remains humble among peers yet towers above the rest in achievements," and if it is possible to do that AND tower about being humble, Dr. Humbaugh is doing just that.
Throughout the COVID-19 pandemic, Dr. Humbaugh has used his expertise in epidemiology to help the community better understand the data. There's not a job he's not been part of during the response, and it's not just the long hours he puts in that staff notice – they also see him actively talking to almost everyone who walks through our COVID-19 vaccination clinic, holding doors for them, giving them advice and answering every question they toss at him.
Fortunately for Lexington, that type of leadership existed long before the worldwide pandemic. Dr. Humbaugh has extensive experience in public health, including epidemiology of communicable diseases, emergency preparedness and response, as well as a background as a pediatrician. He describes himself as a "prevention-oriented, data-driven public health physician and epidemiologist."
Dr. Humbaugh has served as the state health department's director of the Division of Epidemiology and Health Planning. He previously served as medical director for the Louisville Metro Health Department where he also was the interim director of health. He began his medical career as a pediatrician, which included a year in Russia.
Dr. Humbaugh earned his undergraduate degree from Vanderbilt University and his medical degree from Yale University. He was a Fulbright Scholar at the University of Otago in New Zealand and received a Master of Public Health degree from Johns Hopkins University.
He brought all of that to Lexington and immediately began to think of how to improve our outreach and health equity. He is devoted to diversity and works daily to remind that diversity in all types (race, ethnicity, age, sexuality, gender and more) is crucial to public health's mission. In Lexington, he used that to develop our core values: CARES (Caring, Accountability, Respect, Equity and Service), so that every person in Lexington is treated with the value they deserve.
It is that leadership that makes Dr. Humbaugh deserving of honors from the Kentucky Public Health Association. He will humbly accept, and we will proudly celebrate with him.