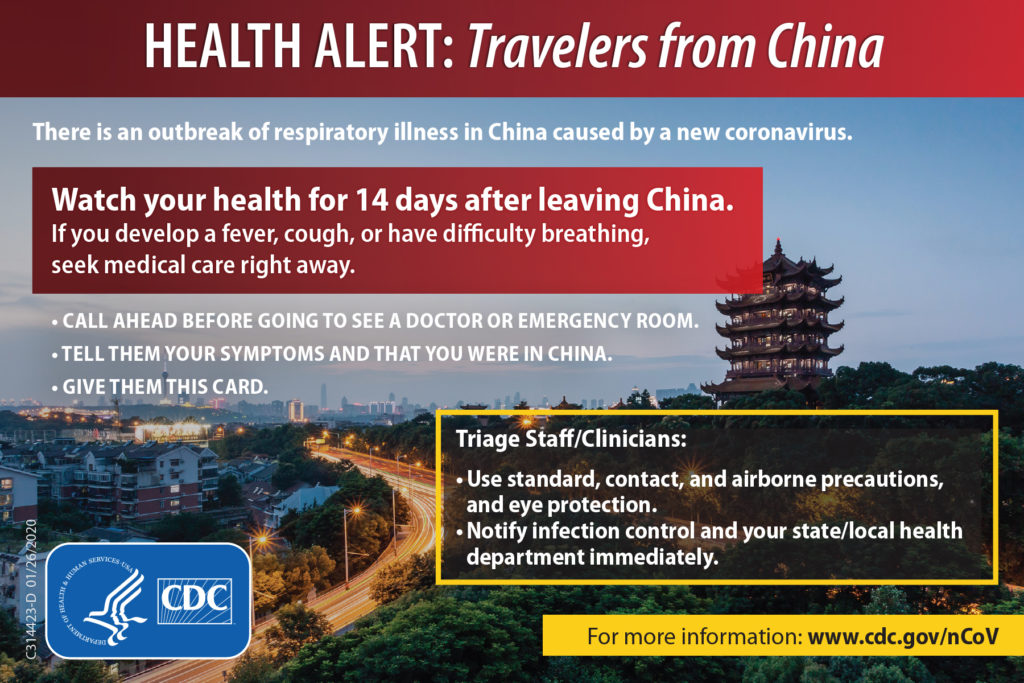 The Centers for Disease Control and Prevention (CDC) is closely monitoring an outbreak of respiratory illness caused by a novel (new) coronavirus first identified in Wuhan, Hubei Province, China. Chinese authorities identified the new coronavirus, which has resulted in more than a thousand confirmed cases in China, including cases outside Wuhan City. Additional cases have been identified in a growing number of other international locations, including the United States. There are ongoing investigations to learn more.
travelers are being screened for symptoms at airports in China prior to travel and upon arrival at major airports in the U.S. Travelers without symptoms are given instructions to seek medical care in the 14 days after travel if they feel sick with fever, cough, or difficulty breathing. If those conditions arise, travelers are instructed to: 
Seek medical care right away. Before you go to a doctor's office or emergency room, call ahead and tell them about your recent travel and your symptoms.
Avoid contact with others.
Not travel while sick.
Cover your mouth and nose with a tissue or your sleeve (not your hands) when coughing or sneezing.
Wash hands often with soap and water for at least 20 seconds. Use an alcohol-based hand sanitizer if soap and water are not available.
For more information, visit the CDC's website.