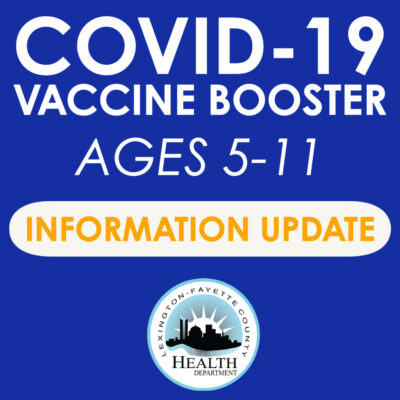 Booster doses of the Pfizer COVID-19 vaccine are now available for everyone ages 5-11 years! The CDC recommends that ages 5-11 receive a booster shot 5 months after their initial vaccination series. Since the pandemic began, more than 4.8 million children ages 5-11 have been diagnosed with COVID-19 across the U.S., 15,000 have been hospitalized and, tragically, over 180 have died. As cases increase across the country, a booster dose will safely help restore and enhance protection against severe disease.
The CDC is also strengthening its recommendation that those 12 and older who are immunocompromised and those 50 and older should receive a second booster dose at least 4 months after their first. Over the past month, the U.S. has seen steady increases in cases, with a steep and substantial increase in hospitalizations for older Americans. While older Americans have the highest coverage of any age group of first booster doses, most older Americans received their last dose (either their primary series or their first booster dose) many months ago, leaving many who are vulnerable without the protection they may need to prevent severe disease, hospitalization and death.
Whether it's your first dose in the series, or one of the recommended boosters, now is the time to get one! COVID-19 vaccines, including first and second doses and all appropriate boosters, are available for FREE by same-day appointment every Monday, Wednesday and Thursday in our Public Health Clinic by calling 859-288-2483.
You can also help slow the spread of COVID-19 by:
Wearing a well-fitted mask/face-covering in crowded public areas.
Avoiding close contact with people who are sick, especially those with COVID-19 symptoms (fever, cough, muscle/body aches, loss of taste/smell, nausea, etc.);
Covering coughs and sneezes;
Avoiding touching your eyes, nose and mouth;
Washing your hands often with soap and water for at least 20 seconds.