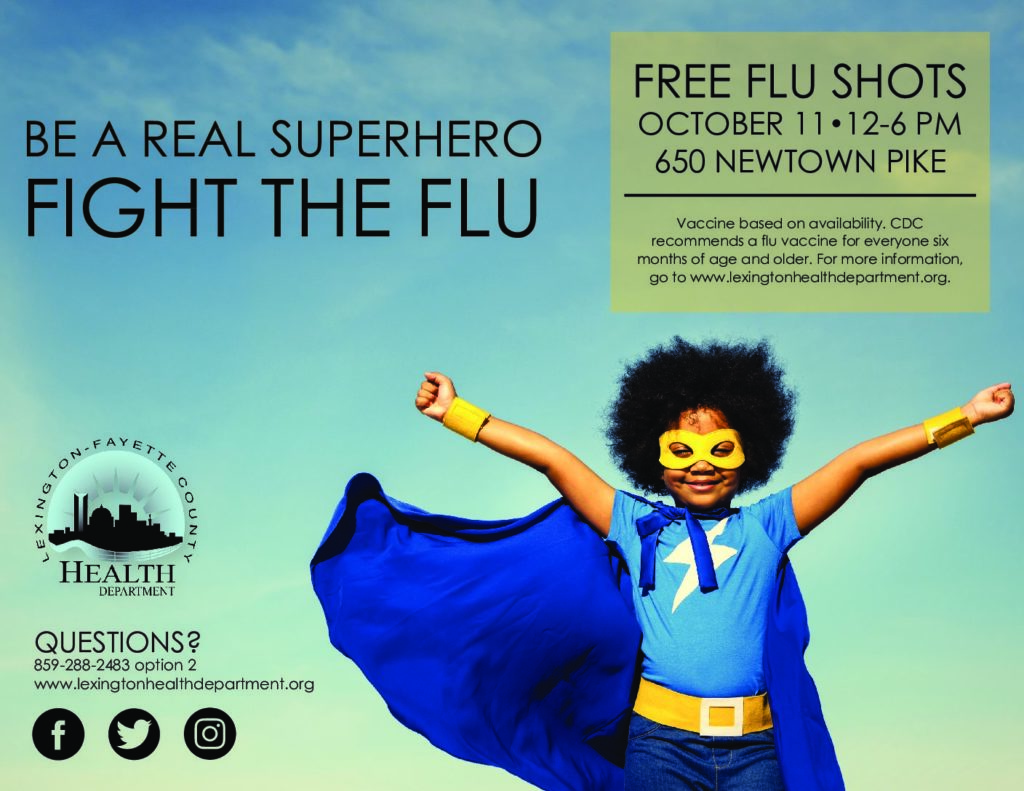 (Note: This event took place Oct. 11, 2018.) The Lexington-Fayette County Health Department is once again giving you the chance to fight the flu for free.
The department's annual free flu shot event will be held 12-6 p.m. Thursday, Oct. 11, 2018, at the health department's main location, 650 Newtown Pike. There is no advance registration — just show up Oct. 11 for your shot!
"An annual flu shot is the best way to fight the flu each fall and winter," LFCHD spokesman Kevin Hall said. "The special clinic lets us test our emergency preparedness skills by giving a large amount of shots in a short amount of time. By holding it on our main health department building, we can better determine what works and what needs improvement on our home turf in the event of a true emergency."
The seasonal flu shot is recommended for all people ages 6 months and older. Last year, Lexington had 27 deaths from flu-related causes and 744 confirmed cases. The health department provided 2,275 flu shots throughout the season, including 1,015 at last year's free flu shot clinic.
"Lexington had 744 confirmed flu cases last year, but that represents a small fraction since most flu cases aren't lab-confirmed," Hall said. "The CDC estimates 5-20 percent of the U.S. population gets the flu each year, costing an estimated $10.4 billion in medical expenses and $16.3 billion in lost earnings."
The health department stresses the importance of patience from patients at the free flu shot event Oct. 11. "It's important for the public to be mindful of the parking lot, which we expect will be busy throughout the afternoon," Hall said. "Keep an eye out for our staff members to help guide you where to park and how to enter and exit the building."
Be sure to watch (and share!) this Facebook video about how you can be a real superhero by getting the flu shot!
For community members not able to get their flu shots at the special free event, the health department will offer flu shots 9 a.m.-3 p.m. Monday through Thursday in the Public Health Clinic, 650 Newtown Pike, starting Oct. 1. No appointment is necessary, and the cost for a regular flu shot is $30. A high-dose vaccine is available for $49 for ages 65 and older. Medicaid/Medicare, cash, checks, credit cards and most insurance plans are accepted.