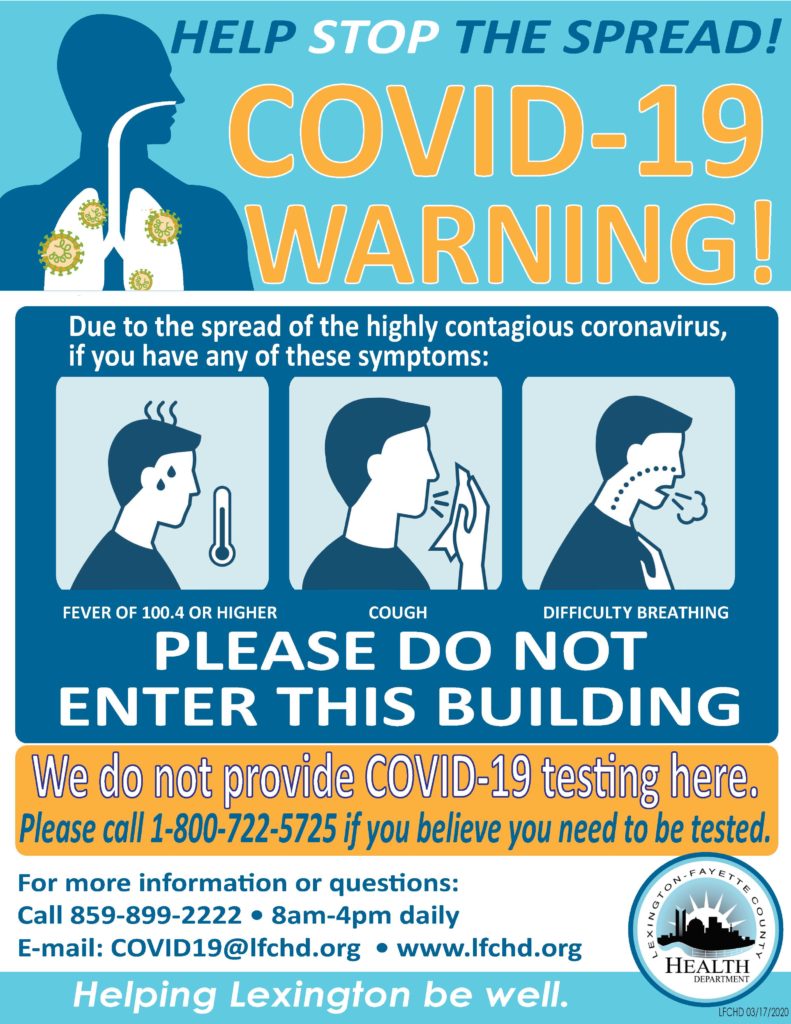 Updated April 20, 2020, to include information about wearing masks.
As part of our COVID-19 response, everyone who enters our building at 650 Newtown Pike will be screened with a series of questions and a temperature check. Visitors to our Public Health Clinic or WIC Clinic must wear a cloth or surgical mask. If you do not have one when you arrive, one will be provided for you.
We have also changed a number of our in-person public health services in the interest of social distancing and because of limited staff availability. Before visiting us, please review the following to see if you need to be on site:
• WIC visits will no longer be in-person and will now be held over the phone. Please call 859-288-2483 with any questions or for more information. If you have an existing WIC appointment, you DO NOT need to call to reschedule; someone on our staff will call you. We will continue to accept new WIC clients during this time. To learn more about WIC, visit lexingtonhealthdepartment.org/women-infants-and-children/.
• Public Health Clinic services will be limited and available only as same-day appointments – you must call ahead of time as walk-ins will not be accepted. Please call 859-288-2483 to make an appointment. Note: this will not affect our needle-exchange program or harm reduction services at this time.
• In-person food handler certifications are suspended until further notice. The certification is still available online at lexingtonhealthdepartment.org/food-handler-certification/.
• Vital Statistics (birth and death records) will be closed to walk-in visitors. If you need assistance with these records, please call 859-899-2226.
• We will not accept in-person requests for medical records, protected health information or requests for immunization records. Please use this link to make an online request: https://tinyurl.com/s4b6qh2. We also offer this authorization to release/receive/review protected health information: https://tinyurl.com/wnkg7sw.
We appreciate the community's patience and understanding as we continue helping Lexington be well while responding to the COVID-19 pandemic.