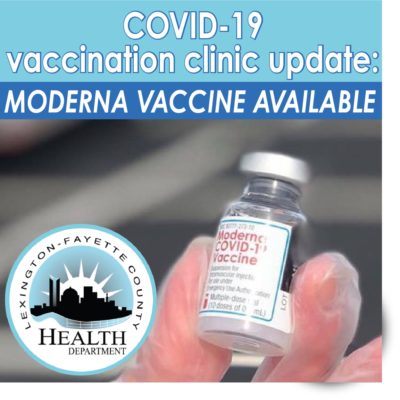 Vaccination Clinic (Registration link below

)
(En español) The Lexington-Fayette County Health Department will provide an appointment-only COVID-19 vaccination clinic 9 a.m.-3 p.m. Wednesday, April 21, at Consolidated Baptist Church, 1625 Russell Cave Road. The health department is providing the Moderna vaccine. You must be 18 or older.
If you do not have transportation to the site and need a free ride, please click here to learn more: free transportation.
Registration information
Each recipient MUST register in advance at: https://tiny.lfchd.org/l?eventKey=4283F971AC1801F3FD23EACE15B91530. This link will change each week.
This link is ONLY for those receiving their first dose. This is NOT for anyone needing to schedule a second dose.
Only one person can register per account — everyone registering must enter a phone number or email.
Registration will close when all appointment slots are full. Every person who attends the clinic MUST be registered in advance.
A video guide to registering can be found here: https://youtu.be/ZT5CyJ7BQ5w.
The vaccine will NOT be administered to those who have already received a COVID-19 vaccine, those who have been vaccinated with any other vaccine within the 14 days prior to vaccination, and those who are not feeling well or have not yet recovered from a current COVID-19 infection.
COVID-19 vaccination is free, but your insurance will be billed for an administration fee. There will be no cost directly to you. You do not need insurance to get the free vaccine.
If you register, please make sure you show up to get the vaccine so that no dose is wasted.
Thank you for your interest in getting vaccinated. If you need assistance, please call our call center at 859-899-2222.