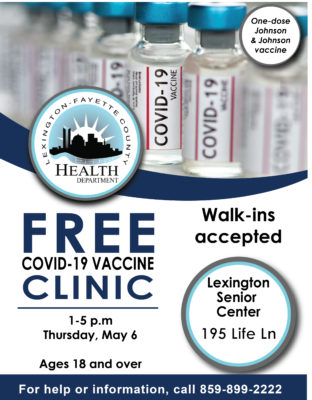 Vaccination Clinic (Registration link below)
(En español) The Lexington-Fayette County Health Department is offering two COVID-19 vaccine opportunities this week! The vaccine is FREE and available for anyone ages 18 and older who lives or works in Lexington. Walk-ins are accepted!
Johnson & Johnson vaccine
1-5 p.m. Thursday, May 6, at Lexington Senior Center, 195 Life Lane. Walk-ins accepted, and appointments can be made at https://tiny.lfchd.org/l?eventKey=EAEE13795660D9B91FC32D6EC8024795.
Registration information
The vaccine will NOT be administered to those who have already received a COVID-19 vaccine, those who have been vaccinated with any other vaccine within the 14 days prior to vaccination, and those who are not feeling well or have not yet recovered from a current COVID-19 infection.
COVID-19 vaccination is free, but your insurance will be billed for an administration fee. There will be no cost directly to you. You do not need insurance to get the free vaccine.
Thank you for your interest in getting vaccinated. If you need assistance, please call our call center at 859-899-2222.