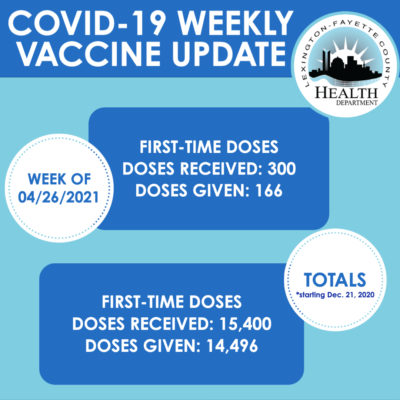 COVID-19 Vaccine Data
UPDATE April 6, 2021: The latest information showing the demographic data for our weekly COVID-19 vaccination clinics is now available. Click on each image for a high-quality version.
UPDATE March 1, 2021: We continue to follow the federal/state guidelines on COVID-19 vaccination distribution. The clinics have been expanded to include anyone 18 and older who lives or works in Lexington. When registration is available, you can learn more here: LFCHD COVID-19 Vaccination Clinic Registration.
70 and Older Vaccination Notification Form for Lexington: To continue to prioritize Lexington residents ages 70 and older, a notification form is available for help learning about future vaccination clinics. If you are age 70 or older and live or work in Lexington, you can receive notifications about future clinics by providing information here: COVID-19 Vaccination Notification Form.
Please know this is NOT a guarantee of getting the vaccination. This is a way to be notified about future vaccination clinics as they become available. If you have questions, please call us at 859-899-2222 or email covid19vaccine@lfchd.org.
When the time comes to register, this video can be used as a guide to help you get signed up: How-To Register for LFCHD Vaccination Clinics.
Please note: the vaccine is NOT available at the health department.
Additional information, including a legal statement, can be found here: COVID-19 Vaccine Information.
LFCHD First-Time Dose Information
UPDATE March 9, 2021: Here's a look at first-time dose information from previous weeks:
Week of Dec. 21: 1,500 received, 591 given (we held a small clinic this week because of the Christmas holiday and to test our ability to expand in future weeks; doses were carried over to the following week)
Week of Dec. 28: 700 received, 931 given
Week of Jan. 4: 800 received, 1,309 given
Week of Jan. 11: 2,000 received, 1,994 given
Week of Jan. 18: 1,200 received, 1,350 given
Week of Jan. 25: 1,000 received, 1,234 given
Week of Feb. 1: 700 received, 737 given
Week of Feb. 8: 500 received (does not include 600 provided to Baptist Health Lexington), 415 given (includes LFCHD doses only)
Week of Feb. 15: 0 received (shipments were delayed because of ice/snow storms), 129 given (using 2nd-time doses until new shipment arrived)
Week of Feb. 22: 550 received (does not include 1,050 provided to Baptist Health Lexington), 435 given (includes LFCHD doses only; remaining 115 were used as 2nd doses after borrowing from inventory last week due to snow/ice storms).
Week of March 1: 800 received, 810 given
Week of March 8: 800 received, 829 given
Week of March 15: 800 received, 817 given
Week of March 22: 950 received, 876 given
Week of March 29: 1,200 received, 789 given
Week of April 5: 800 received, 841 given
Week of April 12: 400 received (Johnson & Johnson; clinic canceled), 69 given (Moderna doses taken from second dose supply)
Week of April 19: 400 received, 174 given
Week of April 26: 300 received, 166 given
The difference of more doses given than received is from "bonus/angel doses" in some of the vials.
Kentucky's Regional Vaccination Clinic Information
Updated Jan. 28, 2021: Gov. Andy Beshear and the Kentucky Department for Public Health announced the state's first regional COVID-19 vaccination clinics, including at the Kentucky Horse Park's Alltech Arena, 4089 Ironworks Pike, Lexington. The clinics start at 10 a.m. Feb. 2. This for Phase 1B ages 70 and older.
Registration starts at 5 p.m. Jan. 28 at Kroger.com/CovidVaccine. Note: we are not responsible for this site and cannot answer questions about the process or clinics. State vaccine information can be found at vaccine.ky.gov or 855-598-2246.
Updated Jan. 15, 2021: Mayor Linda Gorton and the City of Lexington launched a new site with information about the vaccine rollout: Lexington COVID-19 Vaccine Information.
VOLUNTEERS NEEDED: If you want to volunteer for the COVID-19 vaccination response, please sign up through the Medical Reserve Corp!
CDC COVID-19 Vaccine Frequently Asked Questions
Kentucky Department for Public Health COVID-19 Vaccine Frequently Asked Questions