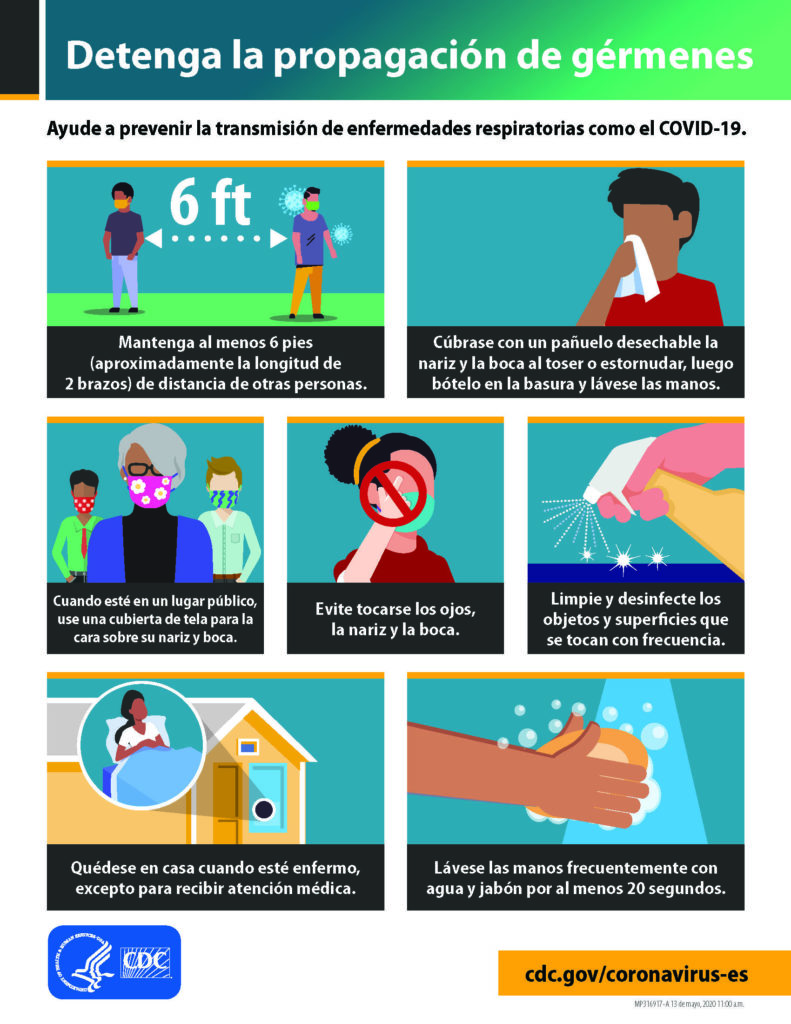 UPDATED June 22, 2020 – COVID-19 continues to spread in Lexington, with cases increasing among the city's Hispanic population. Of the 1,284 total cases, 322 (25 percent) identify as Hispanic, a group that makes up 7 percent of Lexington's population.
"COVID-19 cases have been steadily rising throughout Lexington for the past 4-5 weeks," said Commissioner of Health Dr. Kraig Humbaugh. "This most recent wave of cases includes an increase in affected residents who self-identify as Hispanic. The health department will continue to work with members of this community and city officials on prevention and disease control information, including messages in Spanish for those whom Spanish is their primary language."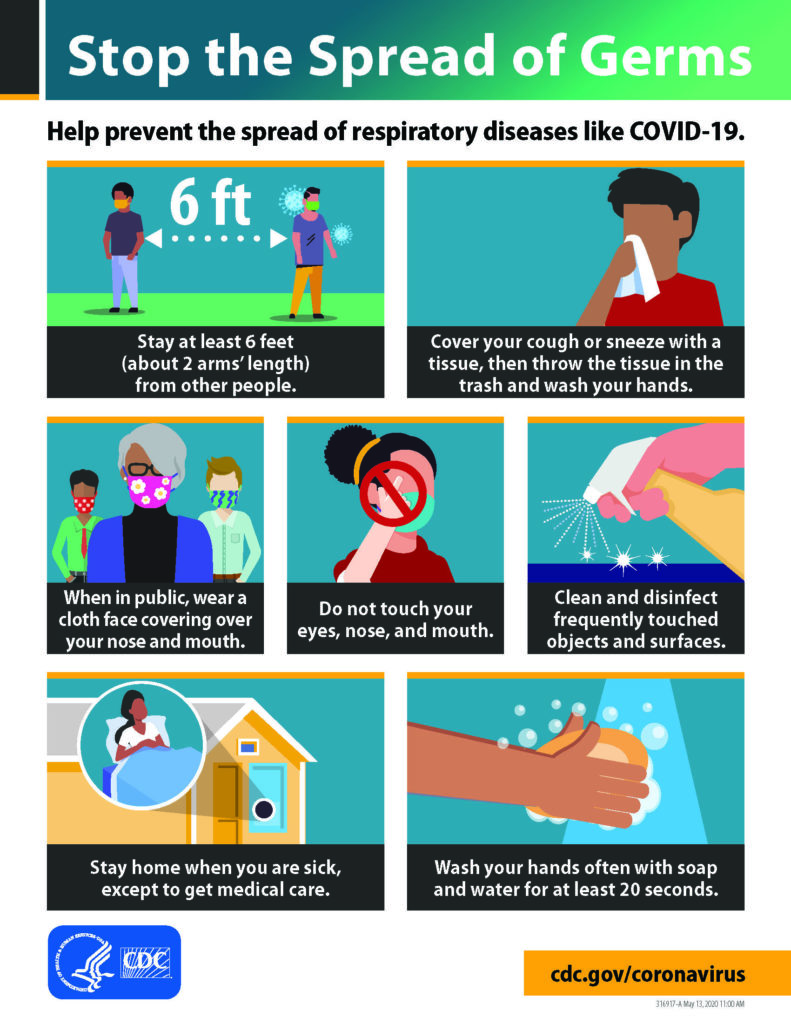 The Lexington-Fayette County Health Department recommends the following for everyone to help prevent the spread of COVID-19:
Washing your hands often with soap and water for at least 20 seconds.
Staying home when sick. This helps protect others from getting sick.
Not gathering in groups larger than 10 people.
Staying at least 6 feet apart from others.
Wearing a cloth mask over your mouth and nose when around others.
Lexington residents with questions about COVID-19 can call the health department's special COVID-19 hotline at 859-899-2222 8 a.m.-4 p.m. daily.
Information in Spanish can be found here:
LFCHD: https://www.lfchd.org/en-espanol/
City of Lexington: https://www.lexingtonky.gov/COVID-19/multilingual-information
Kentucky Department for Public Health: https://chfs.ky.gov/agencies/dph/covid19/kycovid19.es.pdf
Los casos de COVID-19 aumentan en las comunidades Hispanas de Lexington
El COVID-19 continúa extendiéndose en Lexington, con un aumento de casos entre la población hispana de la ciudad. Entre el total de los 1,284 casos, 322 (25 por ciento) se identifican como hispanos, un grupo que compone el 7 por ciento de la población de Lexington.
"Los casos de COVID-19 han estado aumentando constantemente en todo Lexington durante las últimas 4 a 5 semanas", dijo el Dr. Kraig Humbaugh, Comisionado de Salud. "Esta ola de casos más reciente incluye un aumento en residentes afectados que se auto-identifican como hispanos. El departamento de salud continuará trabajando con miembros de esta comunidad y funcionarios de la ciudad en la prevención y la información para el control de enfermedades, incluyendo mensajes en español para aquellos que el español es su idioma principal."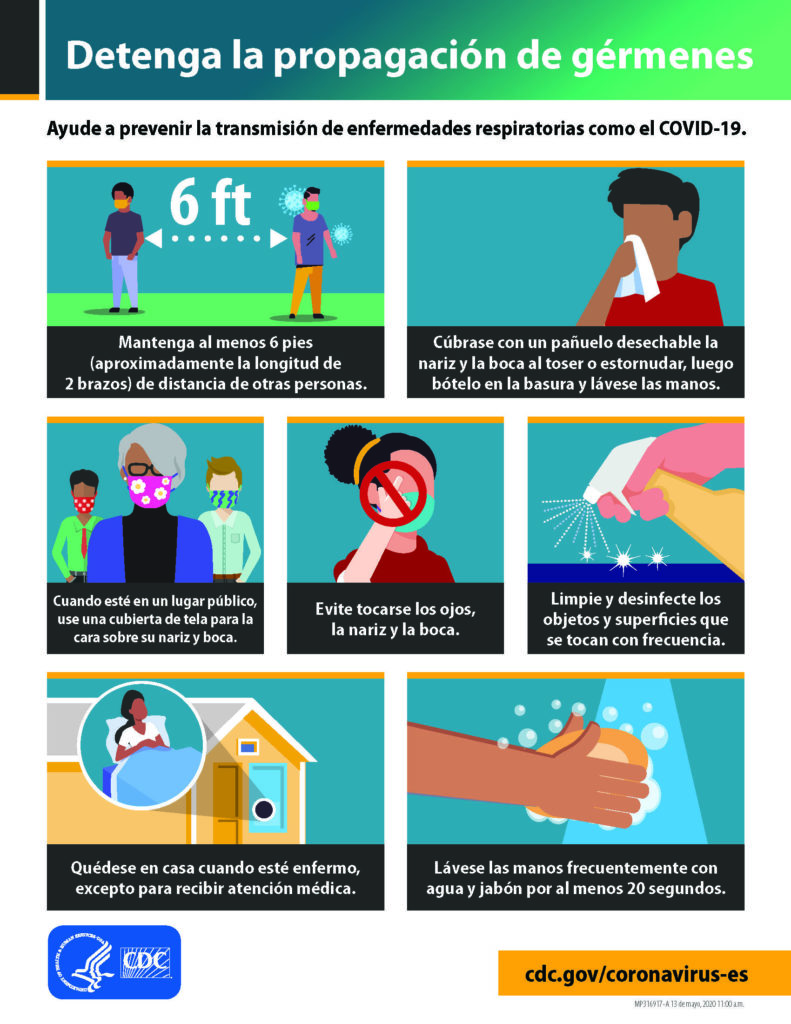 El Departamento de Salud de Lexington-Condado de Fayette recomienda lo siguiente para que todos ayuden a prevenir la propagación de COVID-19:
Lavarse las manos frecuentemente con agua y jabón durante al menos 20 segundos.
Quedarse en la casa cuando esté enfermo. Esto ayuda a proteger a otros de enfermarse.
No reunirse en grupos mayores de 10 personas.
Permanecer al menos a 6 pies (1.82m) de distancia de los demás.
Usar una máscara de tela sobre la boca y la nariz cuando este cerca de los demás.
Los residentes de Lexington con preguntas sobre COVID-19 pueden llamar a la línea directa especial COVID-19 del departamento de salud al 859-899-2222 de 8 a.m.-4 p.m. todos los días.
La información en español se puede encontrar aquí:
LFCHD: https://www.lfchd.org/en-espanol/
Ciudad de Lexington: https://www.lexingtonky.gov/COVID-19/multilingual-information
Departamento de Salud Publica de Kentucky: https://chfs.ky.gov/agencies/dph/covid19/kycovid19.es.pdf